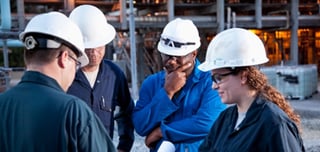 There are a few reasons why a company might need to shut down all or a portion of its plant, such as preventive maintenance or equipment replacement. Major maintenance shutdowns can be stressful for both maintenance and operations personnel, but with careful planning and attention to details, they can also be very rewarding. Plant shutdowns can be very costly and should be handled with a maximum amount of preparation to avoid unplanned shutdowns in the future.
Plant shutdowns are short, hectic, and inherently dangerous. Provided below, a few things to remember in order to perform a successful plant shutdown:
Create a detailed plan that lays out all shutdown activities including areas that need immediate maintenance and preventive maintenance. Identify areas of the plant that are not accessible while operating in order to inspect those areas to prevent unplanned shutdowns in the future. During this planning period you should also identify any additional tools that will be required for each planned project.
Often during a plant shutdown, additional employees and contractors are brought in to assist during the shutdown. They are needed to review current products and practices and to assist in performing preventive maintenance. The right planning and communication can help things go smoothly and keep everyone safe. To ensure the additional employees and contractors aren't injured during the shutdown- ultimately extending the shutdown, be sure to have safety training planned and documented for all involved.
During the plant shutdown, schedule progress meetings. They should be brief and frequent to ensure that the plant shutdown is on schedule and you are kept aware of any issues that could jeopardize the timeline.
Before, during, and after- all plant shutdown processes and projects should be documented. Documentation for a major shutdown can be extensive. It can include a list of projects, critical-path schedules, permits and other safety documentation, the budget, safety procedures, as well as a list of people responsible for all aspects of the shutdown with contact information.
During the plant shutdown, it's always a good idea to be on the lookout for potential issues that may cause problems in the future. While it's great to do this on a regular basis alongside a maintenance program, a plant shutdown is a great opportunity to do this as well.
A well-planned and well-executed plant shutdown can be an exciting and satisfying experience. They lead to improvements in the performance of equipment and processes and enable less unplanned shutdowns. They are also an opportunity to reduce the energy, materials, safety hazards, or waste associated with manufacturing.
NEED TO SAVE TIME?
Save on time and labor by ordering a plug-and-play solution that arrives ready to install right out of the box. TPC's Quick-Connects™ are a collection of cord sets and cable assemblies that make replacement of electrical and electronic control devices quick and simple.
Contact a TPC representative today to learn how we can help with the replacement of wire and cable during your planned plant shutdown.