CUSTOMER PROBLEM:
A Steel Mill had been facing issues with their take-up reel used in the steel coil moving unit that goes to the outside of the mill, covering a distance of around 125 feet. The system was breaking down every week, and the cable powering the unit was getting run over by the coil car. They had to repair the system every week and replace it every month on average.
TPC SOLUTION: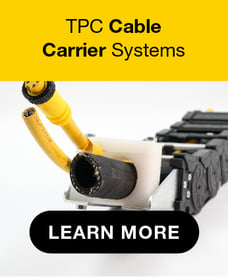 Our engineering department worked closely with the customer to fully understand their needs and requirements. Through a detailed analysis of their situation, we were able to design and build a customized cable carrier system that perfectly fit their specific application. Our team carefully considered the size, weight, and shape of the cables, as well as the environmental conditions in which they would be used, to ensure optimal functionality and durability. Finally, we thoroughly tested the system to ensure it met the highest standards of safety and performance.
CUSTOMER'S RESULT:
It has been 6 months since any repairs or replacement of the cable carrier system have been necessary. This is a significant improvement from when the previous unit was failing weekly. We are proud to have helped this customer find a lasting solution. In the past 6 months alone, they have saved $62,000 in material costs, over $1,800 in labor costs, and increased their production time by 26 hours. All of this was made possible thanks to the custom-designed cable carrier system from TPC.


Source: TPC Cost Value Analysis Report #2501