TPC Wire & Cable serves commercial and naval customers in the coastal and inland shipbuilding and ship repair industry. One such builder of doublehulled barges, tugboats, and other steel and aluminum vessels has been operating since 1999 in Rhode Island. The northeastern facility features 215,000 square feet of floor space, a 3-acre repair yard, and a 4,500-long ton capacity dry dock with an 82-foot span between the wing walls and 1,200-foot pier with 35-foot water depth.
A BUILDER COMMITTED TO QUALITY AND DELIVERY
Whether building or repairing steel or aluminum vessels, this particular yard promises on-time delivery of projects, quality workmanship, and a workforce that is continuously educated through weld school and development programs. The yard is proud to have successfully built and delivered – on time – more than a dozen 80K and 100K barrel double-hulled fuel and chemicals barges plus two of the world's first Facet Tugs. As evidenced by the shipyard's investment in its weld school and ongoing training programs, the customer understands that welding is one of the most critical operations within ship construction and repair.
When welds fail, the entire structure fails. Therefore, welds must be produced consistently, reliably, and with a high degree of quality in order to accomplish the core objective – which is to successfully build or repair a client's vessel on time.
In order to keep a project on time, shipyards also understand the importance of having the right tools to accomplish the job with the least amount of disruption. A disruption in the welding process due to cable failure can be caused by any number of environmental hazards associated with a shipyard – exposure to water, sunlight, oils or caustic chemicals, and the general hazards inherent to the yard such as the likelihood of being dragged, run over, cut or abraded, etc.
When weld cable fails, it impedes quality workmanship, robs crews of their valuable time, creates the potential for workplace safety issues, and delays the conclusion of the project. Ultimately, this translates to client disappointment and a failure on the builder's part to deliver on its promise.
NOT ALL WELD CABLE IS CREATED EQUAL
Most weld cable on the market geared for the shipyard industry is considered to be fairly disposable – meaning, failures are accepted as part of the process, the timing of failures is routine, and frequent re-orders are common. In fact, most shipyards don't expect their weld cable to last through or beyond a single build or repair project. As such, yards plan and budget for frequent sourcing, stocking, repairing/replacing, and re-ordering of weld cable. It's "business as usual."
There's a better way – a weld cable that persists despite the harsh shipyard environment to support weld quality, minimize cable failure, reduce project dollars spent on cable, avoid time spent on repair/replacement, and keep the project moving. In short, a truly reusable solution to shipyard welding applications that supports a shipyard's promise to its customers to deliver a quality build on time.
SHIPYARD CHALLENGE:
At the time TPC's field associate engaged with the builder in Rhode Island, he asked where the yard was replacing cable most often. The answer was weld machines. The field associate then learned that the yard was experiencing failure every 3 months, almost like clockwork, from exposure to moisture and weather. Not only was the cable compromised by the elements, it was also often run over by other vehicles and equipment in the yard. Each time a 100-foot cable assembly failed, the cost to replace it was $374 per unit plus labor – not to mention the cost of lost time and progress on projects.
TPC SOLUTION:
Knowing TPC's unique position as a problem-solver in the cable market, the field representative drew on his product knowledge and suggested a 1/0 ball nose molded connector assembly using Super-Trex® 600 Volt Welding Cable, which TPC engineers designed specifically for rugged use in harsh industrial environments and applications. Containing 2 1/2 times more stranding than conventional welding cable, the cable's design and construction actually reduces copper conductor fatigue and breakage, plus it's flexible and easier to work with than other ruggedized weld cables while maintaining high resistance to impact. The cable also features a 100% fabric serve, which improves tear resistance and reduces jacket shrink-back.
The jacket, itself, is a specially compounded TSE jacket 25% thicker than ordinary cable, making it a superior first line of defense against tearing, abrasion, impact, and chunking. The cable resists heat, flame, and maintains flexibility in all weather.
The ball nose connector, fully bonded to the cable, reduces pull-back and cable stress while creating an environmental seal against dust, dirt, water, and chemicals. The connector also locks into place with a full 180˚ twist, improving on the typical 3/4" turn used by commodity brands for mating.
In other words, TPC's weld cable was designed to last longer in the shipbuilder's welding process than what was currently being used.
BUILDER'S RESULT: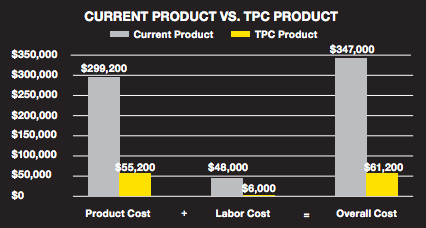 Believing TPC's cable assembly was worth trying, the customer installed TPC's solution on one machine and compared its performance against the commodity product. Recognizing TPC's fully molded connector assembly as superior, the customer replaced assemblies on 100 of its welding machines. After 24 months, TPC's assemblies were still in use with no instance of failure or need for replacement – a result virtually unheard of in the shipbuilding industry! Had the customer continued using ordinary product, the yard would've replaced assemblies 8 times per weld machine in those same two years to the tune of $299,200 plus labor! Instead, the customer invested one time in TPC's product for $55,200 in materials plus labor.
Do the math…TPC's welding cable assembly saved the customer $286,000 in 2 years. Imagine the savings possible with your weld machines!