Customer PROBLEM: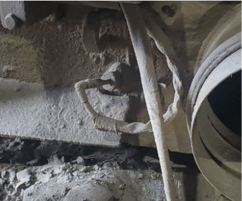 Nucor Steel Memphis, a steel manufacturing company, was having failure issues with its furnace RTD (Resistance Temperature Detector) temperature monitoring system. Over a 12-month period, they replaced the cable four times on 20 probes on the furnace shell. The cables and sensors measuring the temperature of the interior furnace shell were being exposed to constant extreme heat on the side of the furnace shell. These RTD probes are critical to monitoring the interior temperature.
TPC SOLUTION:
We suggested using our Quick-Connex M12 DC Micro, 4 Poles, Female 90-degree Cords Sets with our Super-Trex® Ultra-Gard® Portable heat resistant cable. This combination is built to provide defense against flame and heat. Our Super-Trex Ultra-Gard has a specially compounded security yellow TSE jacket to offer superior protection. Not only did the replacement of our TPC products prevent downtime, but it also added to the safety benefit as it greatly reduced repair time around liquid steel in the furnace.
CUSTOMER'S RESULT:

Nucor reported that these cables have been in place for 12 months without failure! Previously, with material and labor Nucor was spending $9,696 over 12 months. With the replacement of TPC products, they only spent $2,254 on labor & materials.
Overall Cost Savings in 12 Months = $7,441.60