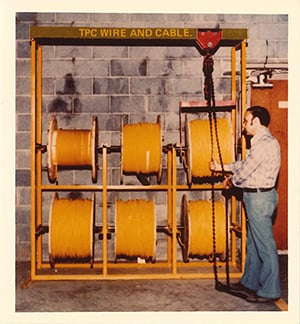 TPC Wire & Cable was founded in 1979 and was originally a spin-off of Cadillac Electric under Premier Industrial Corporation, based in Detroit Michigan as a distributor of premium, ruggedized wire and cable products. Their focus was on steel, auto, utility and diversified manufacturing end markets.
Growing quickly, TPC relocates to Cleveland, OH in 1982, and by 1986, TPC moved to a larger facility in Mentor, Ohio. Today, TPC's headquarters are located in Macedonia, OH with all its operations consolidated under one roof in a renovated 120,000-square-foot facility.

Since the start, TPC has continued to grow through a series of acquisitions and expansion into many different wire and cable markets and has grown international sales with the establishment of distributors and assembly services in Mexico, Canada and South Korea.

Through all of this growth and expansion, TPC has stayed firmly rooted in its original values and is committed to supplying customers with quality wire and cable products and solutions.
1979
TPC Wire & Cable is founded. A spin-off of Cadillac Electric under Premier Industrial Corporation, based in Detroit, Michigan.
1982
TPC reaches $1 million in revenue and relocates to Cleveland, OH.
1986
In response to rapid growth, TPC relocates its warehouse and distribution operations to a larger facility in Mentor, OH.
1996
TPC becomes a Premier Farnell company when Premier Industrial Corporation is acquired by UK-based Farnell LLC.
2006
TPC acquires Sanco, a dedicated company to take on small assembly projects.
2009
TPC acquires Hoffman Products, an electrical component and cable tie company.
2011
Premier Farnell sells the TPC Wire and Cable division to Pfingsten Partners, a Chicago-based private equity firm.
2012
TPC establishes corporate headquarters in Macedonia, OH. All operations are consolidated under one roof in renovated 120,000-square-foot facility to house onsite warehouse, distribution center, cable assembly center, and engineering testing labs.
2015
TPC is acquired by the Audax Group, a private equity firm in Boston, MA.
TPC completes the acquisition of Enersave Wire & Cable in Mexico City, allowing further expansion of product inventory and assembly services into Mexico and Latin America.
2016
TPC announces new distributor Broland of Seoul, South Korea, creating a presence for the brand in Northeast Asia and amplifying the company's global approach.
2017
TPC acquires Electra Cord, a manufacturer of custom-molded cable assemblies, power cords, and cord sets serving OEM customers.
2018
TPC wins Northcoast 99 Award and was chosen as the Top Score Award winner for the Mid-Sized Organization category for companies with 51-500 employees.
TPC acquires Milrail, Inc., a North American specialty supplier of wire, cable, interconnect devices and grounding systems to the Rail, Transit and Military markets.
2019
TPC acquires EZ Form Cable Corporation, an AS9100D Certified provider of coaxial cable based in Hamden, Connecticut for specialized applications common in defense, space, wireless communications and medical instrumentation.
TPC acquires Pittsburgh Wire & Cable (PWC), a value-added distributor of wire & cable.
TPC acquires Cicoil LLC., a custom-engineered solution provider.
2021
TPC acquires Hydro Group, a provider of connectivity solutions to Aerospace & Defense and energy.
TPC acquires Integrated Cable Systems, Inc. (ICS), a provider of custom cables, harnesses, and assemblies for medical devices.
TPC acquires The First Electronics Corporation (FEC), a leading supplier of manufactured custom cable assemblies for Military and Defense applications.

TPC announces the formation of the Trexon brand, which encompasses the brand portfolio of TPC, Pittsburgh Wire and Cable, MilRail, EZ Form Cable, CiCoil, Hydro Group, Integrated Cable Systems (ICS), and The First Electronics Corporation (FEC). The new Trexon brand will convey a collective global message about the unique connectivity solutions that we provide with the transformative and combination of all brands together collectively.
2022

Trexon acquires Intelliconnect.
Trexon appoints Mark Twaalfhoven as new President and CEO.
Trexon acquires Power Connector, INC. (PCI)