Part numbering disciplines and processes have changed over the years and most manufacturers use either Non-Intelligent or Intelligent part numbering schemes. If you are trying to decide what part numbering system works best for you, read below and consider all the advantages and disadvantages of intelligent vs. non-intelligent part numbering commonly used in industrial manufacturing today.
Non-Intelligent

&

Intelligent Part

Numbering Systems




Non-Intelligent Part Numbering

– Also called Non-Significant part number sequencing.
This part number does not provide any information about the part. Non-significant part numbers are typically serial or in numerical order regardless of the type of part.



Advantages:
Simple to assign

Faster to enter into computer systems

Simple to reserve in large blocks for contract design

More clearly communicated in noisy environments and in written communications

Disadvantages:


Difficult to invent "on the fly" without fear of duplication

Unhelpful for deciphering proprietary information

Not constrained to a specific product, project, plant or customer
Intelligent Part Numbering – Also called Significant part number sequencing.
This smart part number contains descriptive and informative details that provide significant information about the part.


Advantages:
Convenience: The ability to tell at a glance the essential characteristics of a part
Design Efficiency: Structure documentation and spreadsheets by product type and then more easily search, sort and create new items
Search Efficiency: By using part of the smart part, you can search your database and locate similar items within the group
Sequence Efficiency: Duplicate part numbers are automatically prevented based on rules that include product class and attributes
Error reduction: This scheme provides a frame of reference for each part by specifying the group to which it belongs, making it easy to sort & identify by product category
Process improvements: Significant part numbers allow parts to be received, stocked and accessed more efficiently. As part classes are handled the same way, steps can be predefined for part number classes or categories and new parts easily be incorporated into the system
Disadvantages:
Getting too Complex: A part system that encodes all meaningful attributes of each part would be impossible to manage. This "super-smart" part number could include all physical dimensions, materials and properties, regulatory conformance, inspection and test procedures and a host of other attributes. A super-smart part number could easily be longer than the part's description!
How TPC Utilizes an Intelligent Part Numbering System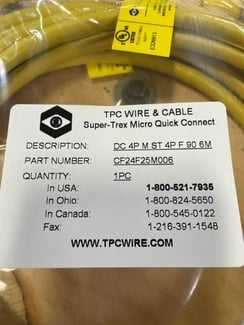 TPC operates with an intelligent part numbering system for our line of Quick-Connex™ Cordsets. See below for how we define our Smart Part Matrix:
All Cordset parts begin with "C", all Receptacle parts start with "R." A two-letter prefix defines the cord set category, CL = Minis, CF = M12 DC Micros, etc.

Connector head configurations are consistent across cordset styles. For example, "A" = straight Male, "C" = straight Female, "E" = straight Male / straight Female

Quick-Connex™ categories have a specific family of cables that apply, further defined by the number of pins/poles of the connector matched to the no. of conductors in the cable

Unit of Measure for cordset lengths can be "F" = Feet, "M" = Meters or "A" = Inches

Lengths of cordsets are defined by three digits, 5 = 005 or 50 = 050

For easier understanding and order entry, we do not use spaces, dashes, forward or back slashes or symbols. Spaces are difficult to remember and spreadsheets are not kind to symbols.



Why does an Intelligent Smart part numbering system work for our Quick-Connex™ cordsets?
Consistent in length & format, it is easy to identify missing or extra characters, quickly identifying incorrect part numbers
Quickly and efficiently able to create new part numbers in our database and eliminates the chance of duplicating part numbers
Fully compatible with interchangeable part attributes
Part records have consistent item descriptions based on the category and part type

All parts in a specific group share the same attributes –, temperature rating, material construction, specified family of cables, UL, CSA documentation, etc.

Any new items created also share those attributes.
Easy to create part number alternations within a product group for different head configurations or different cable lengths