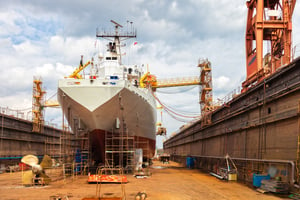 In order to maintain a safe shipyard, it should be guaranteed that workers keep their workplace clean and free of unnecessary tools and materials. While this goes for any working environment, it's especially important for shipyards. The dangers of electrocution posed by electrical systems on ships and at shipyard shore facilities is significantly high and a cluttered workspace can lead to dangers posed by unseen damage to electrical cables. Both shipyard employers and employees must be fully aware of the variety of workplace hazards and dangers.
It is also important to remember that while electricity may directly cause an injury, a shipyard worker's reflexive reaction to even a small electrical shock may cause them to suffer a serious secondary accident such as a fall. With the proper protective equipment (PPE), training, and procedures, employers and employees can prevent accidents involving electrocution and shock.
Things to look for in your shipyard...
Inspect your cables. Look for any damage or fraying to any power cables or extension cords. This also includes chemical damage. Is the jacket worn, weathered, or warped? These cables should be replaced immediately to prevent an accident.

Examine electrical connections. Review fuse panels, generators, and switchboards to ensure all the connections are intact.

Confirm all electrical equipment, cords and tools are properly grounded.

Get educated before preforming electrical installations or repairs. Hire professionals in areas of uncertainty.

Evaluate the area. Be sure there are no cables on the ground that will get run over or power lines above that could get caught in machinery.
Always remember, safety should be a proactive measure. Ensuring all electrical equipment, wiring, and cables are in safe working condition before starting or performing a job, can be lifesaving. When exposed to electrical systems remember to wear safety glasses or face shields and insulated gloves to stay protected.
Unsure about safety regulations? Electrical safety OSHA regulations can be found here!
Finding the Right Cable
Looking for a cable that can get the job done safely? TPC offers extension cords made with Super-Trex Triple-Gard cable designed with high-quality compounds to meet all the industry standards and provide long-term reliability against industrial and environmental abuse. These portable cables are highly flexible for extra-hard usage with excellent resistance to impact, cutting, abrasion, oils, and most industrial chemicals. Visit our website to learn more about TPC's shipyard solutions!