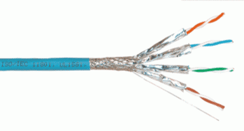 As each year passes, Ethernet cable wiring becomes increasingly important in our world of constantly evolving technologies, especially because of the Internet of Things (IoT) and now the Industrial Internet of Things (IIoT). The concept of IoT proposes the development of the internet in which everyday objects have network connectivity, allowing them to send and receive data.

Properly installed Ethernet network cable reduces downtime and allows for the constant flow of data, connecting your data systems and network devices such as routers, modems, adapters, or whatever 'thing' needs connecting throughout your facility.
Planning Your Network Cable Installation
Given that you have previously identified a central location where all of your cables will terminate, you can begin planning your network cable installation. Keep in mind that this central location for your cable should be large enough to accommodate your current project as well as any future data network expansion plans in your plant. If the cable will be subjected to any harsh environments, choose a cable that has industrial strength properties such as high flex life and resistance to UV light, cutting, abrasion, oil, chemicals, extreme cold or extreme heat.
Choosing Ethernet Wiring
How to Install Ethernet Cable
Do: Cross Power the Cable at a 90-Degree Angle
If you do need to or happen to cross your data network cabling, they should be kept at a 90-degree angle in order to avoid interference.
Don't: Run Cable in Unsafe Locations
At some point, you may need to run the cable in the ceiling or wall. Make sure the cable doesn't touch the ceiling tiles and do not run the cable over electrical conduit, water pipes, or any other pipes, as it is unsafe and may not pass inspection.
Do not run any data cable beneath the floor.
Do: Use Different Color Schemes
Separating cabling colors is convenient and keeps your data lines organized.
Don't: Bundle Cables Too Tightly
Kinked cable can have a negative effect on the network and reduces the quality of the cable.
Cables that are bound too tightly are difficult to troubleshoot, should there ever be an issue.
Do: Label the Cable
Ask yourself the following questions to help with the labeling process:
Which location is the cable destined for?
How was it terminated?
Is the cable for Ethernet or a jack?
Don't: 'Over-Cable' Your Racks
Having too much cable in your data center will create excess heat, which isn't good as the racks need to stay cool.
Do: Use an Effective Wire Management System
Use a safe and effective wire bundling device (like Velcro® or cable ties) to organize patch cabling between racks.
Space your wires out in a patch panel.
Dress your cabling without diving or cable-crossing.
Create a simple map layout of cable locations that will serve as a quick and easy reference for locating cable for repair or replacement.
Don't: Leave Wires Exposed by Terminations
Leaving the Ethernet cable wiring exposed by terminations runs the risk of damaging the wire inside the termination and can break inside the plug.
Do: Purchase Connectorized Cable
Buying pre-connectorized cable makes it easier for plug-and-play installation and will provide you with the exact assembly needed.
Prepare Your Data Systems for a Smarter Future
The IoT describes a world where (pretty much) anything can be connected and will communicate in an intelligent manner. Reduce downtime and prepare your plant's data systems for a much smarter future in communications. Begin your network cable installation plan today by downloading TPC Wire & Cable®'s "Do's & Don'ts of Installing Ethernet Cable" sheet, including the "Build Your Own Ethernet Cord Sets" sheet.