Any damage to your cable's jacketing material as it moves across a rough surface is considered abrasion. Common causes of failure due to abrasive applications are having too thin of a jacket or too soft of a jacket that fails to protect your cable's conductors or your cable's shielding during operation.

Choosing the proper abrasion resistant cable will keep your machines up and running efficiently, reduce downtime and allow you to use cable for a longer period of time.
Types of Abrasive Applications:
| | |
| --- | --- |
| • Cable Trays | • Control Panels |
| • Anywhere Rubbing or Vibration Occurs | • Crane Hoists |
| • Conveyors | • Cable Reels |
| • Pumps | • Port Cranes |
| • Furnaces | • Retractable Reels |
| • Generators | • Heavy Duty Tools |
| • Motor Operated Valves | • Pendant Pushbutton Stations |
| • Kiln Fans | • Welding Primary |
ABRASION RESISTANT WIRE & CABLE PRODUCTS
If you're planning on installing an abrasion resistant cable into an application that includes additional harsh environments, such as extreme heat, not to worry. Most abrasion resistant wire and cable products also carry other protective attributes like chemical, extreme heat and moisture resistance.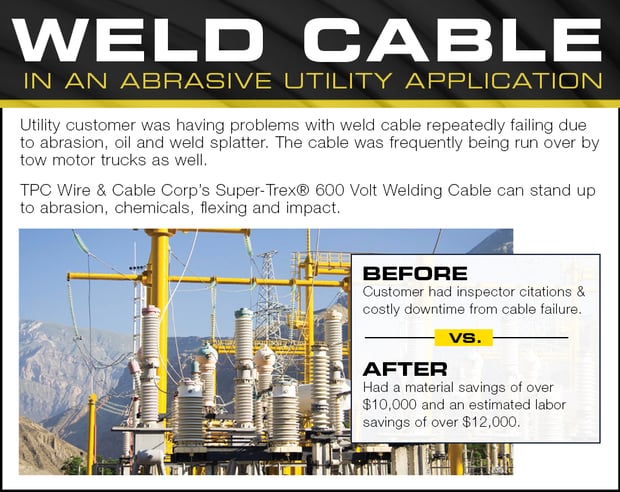 The construction of every TPC wire and cable product takes jacket material into consideration when designing solutions that will be used during abrasive applications. Choosing the right cable product during abrasive applications ensures a longer life with less downtime from constant repair and replacement. Super-Trex® products are widely used for just about every application and are jacketed with a specially compounded thermoset elastomer, making it the most most durable option for the most common industrial applications.


Click here to view our abrasion demonstration video.