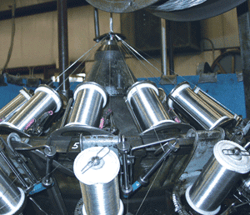 Custom engineered electrical cable is designed to reduce downtime, increase plant efficiency and solve a specific problem that commodity cable may not solve. Supplying a variety of details, such as the application and environment of the cable, ensures that it will be built specifically to solve your particular problem.
DETERMINING SPECIFIC APPLICATION REQUIREMENTS:
Most industrial applications found in any manufacturing plant subject the electrical cable to harsh environments like abrasion, impact, vibration, flexing, pulling, oil, water, chemicals and even inclement weather. The design and development of the cable for specific applications can require a lot of detail.
To get started, use the following tips and questions to begin your custom electrical cable build:
Why is it failing? Explain in detail what is happening with your current cable.
What type of cable is it?

Single conductor, multi-conductor? Composite?

What is the temperature rating?
Voltage requirements?
How flexible does the cable need to be?
What material type are the conductors?

Bare copper, tinned copper, silver copper or nickel?

Provide the number of conductors and AWG
What is the material type and wall thickness of the insulation?
Is there any shielding, and if so what is the shield and material type?
What is the material type, maximum O.D and wall thickness of the jacket?
Does the cable jacket need to be a specific color?
What regulatory standards does the cable meet?

UL, CSA, CE, MIL SPEC or other?

Is anything printed on the cable jacket?
In addition to a custom electrical cable build, you may be looking for something more to solve your application problem. To ensure that you get the solution you need, you may want to inquire about the following:
Connectors
Other materials & products
CUSTOM ENGINEERED ELECTRICAL CABLE SOLVES PROBLEMS:
Keeping your machinery running efficiently and safely with less downtime is possible with the right cable. If your original cable isn't cutting it in your industrial application, a custom designed cable may be the best option for you. Stop continually repairing and replacing your cable and build a custom cable that lasts. Get started today by downloading our Custom Designed & Engineered Wire & Cable Solutions brochure.