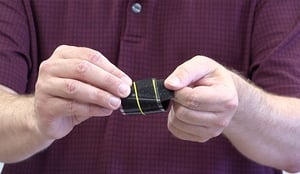 Electrical tape is a common household item that can be used for more than simply insulating electrical wires. The wide variety of uses and applications requires a product that can withstand a wide range of environments. Unfortunately, the simplicity of electrical tape can fall short in industrial applications. Electrical tape relies on adhesive and adhesive fails in dirty, oily and high temperature conditions. Regular electrical tape is also thin which requires substantially more tape in order to get any level of dielectric strength or abrasion protection. The quality of tape can mean be difference between a safe fix and a severe problem.
Vulko-Wrap was designed with the user in mind. It is a self-vulcanizing insulated wrap made of a specially compounded silicone elastomer making this self-adhering tape resistant to oil and water, ozone, and most chemicals. It has a high dielectric strength and can be used on all electrical connections. It sticks to itself without sticky residue and fully bonds in 24 hours yet remains pliable to the application. The tape is designed to stretch 2-1/2 times its length which creates tension. This tension is what allows the tape to be extremely versatile and work in a variety of applications and environments.
Vulko-Wrap will also remain effective in high temperatures ranging from -60˚ F to +400˚ F.
The tape is 4 to 5 times thicker than regular electrical tape and provides 5,500 volts of protection per wrap. Vulko-Wrap can be purchased in 40 to 50 mil thickness and it comes in yellow and black.
Just like electrical tape, Vulko-Wrap can be an all-purpose tool, but even stronger and more reliable. Use Vulko-Wrap for auto and roadside assistance. It can be used to perform an emergency radiator hose repair or to insulate battery terminals. Use this tape around your home by fixing a leaky hose or to cover the handle of your gardening tools. This tape can even be handy aboard your watercraft to help waterproof electrical connections, for boat rigging or even to wrap frayed lines!
Need something with even more strength? Try TPC's Reinforced Vulko-Wrap which has been embedded with a glass yarn fiber braid for added tensile strength while maintaining the same flexibility found in the traditional Vulko-Wrap product. It is available in 40 mil thickness in black only.
Contact a TPC representative today to place your order.