Very few industries involve the complex and challenging hygienic requirements like the food and beverage industry. Over time, high-pressure sprays, high temperature water, cleaners and sanitizers can wear on electrical cables and connectors. These harsh conditions result in frequent maintenance and cable failures which can cause unwanted downtime and slower production.

High Temperature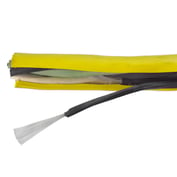 In order to properly clean equipment to keep it sanitary, food and beverage manufactures use high temperature water to clean equipment. Most food and beverage manufacturers also have refrigerated floors and combined with the frequent high temperature water cleanings, it can cause a lot of condensation. The cables used within the manufacturing plant have to be resistant to high temperatures while also keeping out moisture. TPC has developed Thermo-Trex® a family of high temperature wire, cable, and sleeving that resists moisture due to the non-wicking rayon fillers within the cable. Some cable options can withstand continuous temperatures up 1000°F (537°C) and 3000°F (1649°C) in extreme temperatures.
Chemical Resistant
Along with the high temperature water, food and beverage manufactures use chemicals to keep work areas and equipment sanitary. Over time, these chemicals can damage cord and cable leaving equipment exposed to failures. In many applications, it can be beyond just the strength of the cable jacket but also the durability of the connector too. TPC has developed Chem-Gard® a chemical resistant line of cables with a patented fluoropolymer jacket and insulation that can withstand harsh chemicals. To compliment the superiority of TPC cables, connector assemblies were designed to withstand the same abuse. Molded connector assemblies can withstand abuse caused by continuous flexing and pulling making it the ideal solution to add to your cable to keep your applications running smoothly.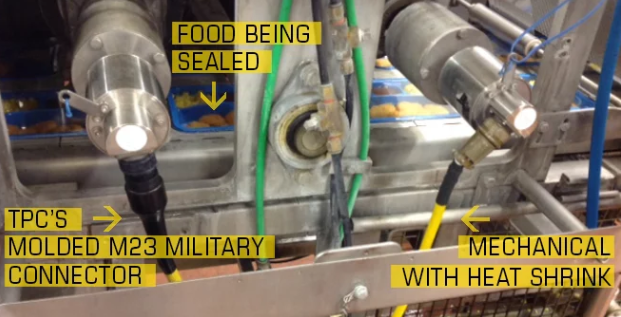 Flexible Applications
A flexible connector and cable are needed for many applications in a food and beverage manufacturing facilities. For example, a potato manufacturer uses a spice machine to flavor the chips which involves constant flexing of cables. The constant movement of the machine was causing cable failures because of the inflexibility of their commodity cable. To keep the spice machine in excellent working condition, we suggested they try our Super-Trex® Ultra-Gard™ portable cord for the flexible specially compounded TSE jacket that resists abrasion, tearing, impact, oil, and most chemicals. These cables also feature tinned extra-flex stranded copper conductors which allow for more flexibility within the conductor. TPC cables are engineered and tested to handle millions of cycles of repetitive bending, mechanical stress, and harsh environments.
If you have challenging applications in your processing, packaging, canning, or bottling facility and need cable solutions that can withstand harsh conditions, we're the right choice for you! Explore our case studies below to see how we're helping reduce downtime and increase productivity for our customers in the food and beverage industry. Contact us today and get your food and beverage plant operating smoothly.