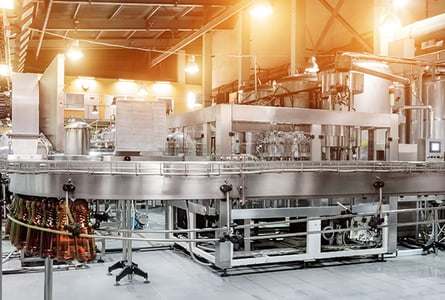 Very few industries like the Food and Beverage Industry involve complex and challenging hygienic requirements. Over time, high-pressure sprays, high temperature water, cleaners, and sanitizers can breakdown electrical cables and connectors. These harsh conditions result in frequent maintenance and cable failures which can cause unwanted downtime and slower production. It's important for businesses in the food and beverage industry to work with reputable suppliers or manufacturers who specialize in providing industrial wire and cable solutions that meet the industry's specific requirements and regulations. 
Overcome downtime with these cable performance
characteristics
Industrial wire and cable play a crucial role in the food and beverage industry. Read below to see where we recommend industrial-strength wire, cable, and accessories in your F&B plant. 

Temperature resistance
Food and beverage processing environments can involve extremes of temperature such as high temperature water to clean equipment to battling freezing temperatures in freezers or chillers. Industrial wire and cable in this industry are engineered to withstand these extreme temperature conditions, ensuring their durability and reliability over time.

Chemical Resistance
To maintain proper sanitation standards, and ensure cleanliness, equipment is exposed to various chemicals, including cleaning agents and food ingredients. Over time, these chemicals can damage cords and cable leaving equipment exposed to failures. In many applications, it can be beyond just the strength of the cable jacket but also the durability of the connector too. Having a cable or cordset that can stand up to chemicals will keep your production running and help you avoid downtime.

Waterproof and Washdown capabilities
Most manufacturers also have refrigerated floors combined with frequent high temperature water cleanings, which can cause a lot of condensation. Cables and connectors used within the manufacturing plant must be waterproof for areas of condensation and washdowns. A molded cordset and keyed cordsets provide rapid and secure connect and disconnect and ensure a water, oil, and dust-tight seal. They can withstand abuse caused by continuous flexing and pulling making it the ideal solution to add to your cable to keep your applications running smoothly.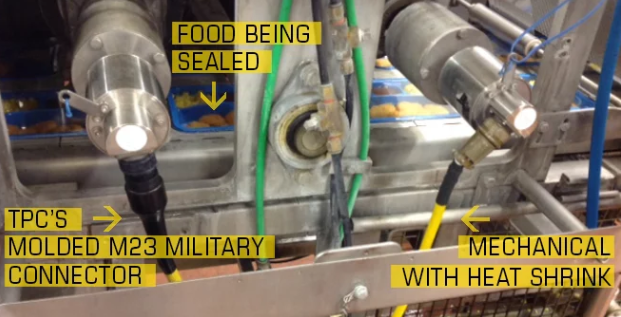 Flexibility
The use of flexible cables in food manufacturing plants ensures efficient and reliable electrical connectivity, adaptability to dynamic environments, and ease of installation and maintenance, contributing to the smooth operation of the facility. A cable with a small diameter allows the product to be used in areas that require a tighter bend radius.
If you have challenging applications in your harvesting processing, packaging, canning, or bottling facility and need cable solutions that can withstand harsh conditions, we're the right choice for you! Explore our case studies below to see how we're helping reduce downtime and increase productivity for our customers in the food and beverage industry. Contact us today and get your food and beverage plant operating smoothly.